Welcome!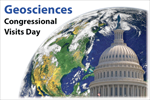 July 31 –Decision makers need to hear from geoscientists! Plan now to be in Washington, DC for the annual Geosciences Congressional Visit Days (GEO-CVD) on September 16th and 17th. SSA is one of many geoscience societies that collaborates with the American Geological Institute (AGI) for this important event. [Read More]
July 3 – Congratulations to the winners of the 2014 Student Presentation Award! These awards are given for an excellent poster presentation or talk at each Annual Meeting. For more information about these awards and links to the abstracts of all the winning presentations please visit the Student Presentation Awards page.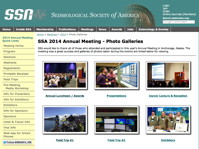 June 5 – Several galleries of photos taken at SSA's 2014 annual meeting in Anchorage, Alaska have been posted. Thanks to everyone who helped make the meeting a success. Hope to see you next year in Pasadena.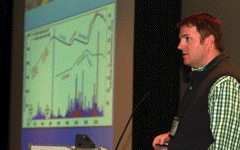 May 30 – One hundred sixty-eight slidecasts of oral presentations and one hundred forty-nine posters from the 2014 Annual Meeting in Anchorage are now available online for viewing by SSA members. Click here to view slidecasts and posters from thirty-nine technical sessions. Take this opportunity to see what you missed or share one of these sessions with a colleague.

Votes are in for SSA Annual Election!
January 24 – The annual election of the Seismological Society of America was held on January 3, 2014. Votes of current members that were received by the deadline, 5 PM on that date, were tabulated and validated by Election America, Inc.
The following four nominees for Director were elected to three-year terms which begin in April 2014: Laurie G. Baise, Eric Calais, Christine A. Goulet and Andy Michael…
October 27 – OpenGeoSci (http://opengeosci.org) is a free, public web application featuring a map-based discovery interface providing geographic searching for more than 300,000 maps, cross-sections, charts, tables, and other high-value content from GeoScienceWorld publications.
BSSA and SRL are included in GeoScienceWorld, an aggregation of 45 earth science journals. At launch, OpenGeoSci includes material published since 2000.
The goal of OpenGeoSci is to further aid researchers in discovery of relevant valuable assets for academic research. Using a combination of search terms, map locations, and a choice of filters, results take users directly to data within the displayed articles. OpenGeoSci speeds the research process and exposes a broad audience of earth scientists and other professionals to a variety vetted resources.
October 5 – Readers of the Bulletin of the Seismological Society of America (BSSA) no longer have to wait for the two months between issues of BSSA to read new articles. Beginning October 8th BSSA articles are being "Published Ahead of Print" (also known as "E-First" or "Pre-issue" publishing). As soon as an article has been reviewed, approved, copyedited, and formatted for publication, rather than being held until an entire issue is ready, it will be posted online. Every Tuesday BSSA articles which have been approved for publication in a future issue of BSSA will be made available to SSA members BSSA subscribers.
Latest SSA Journals
On the Cover…
On 3 January 2014 an accidental explosion of a 1350-kg World War II bomb in Euskirchen, Germany, killed one person and injured several others. The above-ground detonation created an air blast that was widely observed in the area northeast of the explosion site, and the illustrated map summarizes the seismological observations. The wind field at the time of the explosion is superimposed on a digital elevation map; red dots indicate the measured ground velocities of the air blast signal; crossed circles show that no signal was recorded; and the yellow star indicates the explosion site. Black circles show macroseismic intensities of 300 reports; the map's color indicates the population density. Hinzen (this issue) estimates the charge weight from the ground motion recorded at a distance of 7 km and interprets the directional spreading of the air blast.
[ Close ]
July 1 – Volume 85, Number 4, the July/August 2014 issue of Seismological Research Letters, is now available online. This issue features:
SSA members can access the complete online edition here.
Not a member? Join now to get immediate access.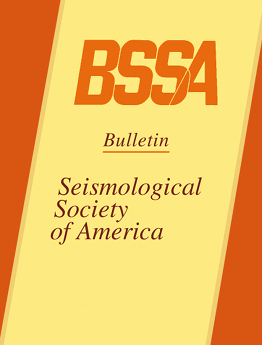 June 6 – The June 2014 issue of the Bulletin of the Seismological Society of America (BSSA vol. 104, no. 3) is now available online. Click to view the table of contents for the issue. SSA members should click here to access full text or PDFs of all articles from the issue (log in with your SSA username and password required). A press release, highlighting the article "The Earthquake Cycle in the San Francisco Bay Region: AD 1600-2012" by David Schwartz et al., is also available.