Welcome!
Partial Website Outage

SSA Members Area Temporaily Unavailable
September 23, 9:35 AM PDT – Due to a problem at our online membership database provider, the SSA Member's Area, including access to our online journals and membership renewal services, is temporarily unavailable. We are working to restore these services as soon as possible — please check back later today. Thanks for your patience and please accept our sincere apologies for the inconvenience.
September 19, 2014 – Deborah Weiser of UCLA, recipient of this years GEO-CVD Student Travel Grant, represented SSA at the annual Geosciences Congressional Visits Day (GEO-CVD), September 16–17, in Washington, D.C. Debbie participated in seven meetings on Capitol Hill, including Senator Patty Murray's constituent coffee and meetings with key staff in three Congressional offices (Representatives Rohrabacher, Bass, & Speier) and four Senate offices (Senators Boxer, Feinstein, Murray and Cantwell). Her report on her experience will appear in a future issue of SRL.
GEO-CVD '14 was a great success, with over 100 individual Hill meetings scheduled for the 40+ participants this year. The overarching message for GEO-CVD is the importance of continued federal investment in geoscience research and development … [Read More]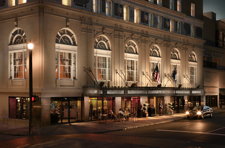 Abstract Submission Deadline is 9/24
September 18, 2014 – The 86th annual meeting of the Eastern Section of the Seismological Society of America, hosted by the College of Charleston Department of Geology and Environmental Geosciences, will be held 2–4 November 2014 at the Francis Marion Hotel in Charleston, South Carolina.
Oral and poster presentations are welcomed in all areas of seismology, earthquake engineering, crust and mantle structure of eastern North America, emergency response and preparedness, earthquake hazard mitigation, earthquake education, or any other topic consistent with the SSA objectives.
The Abstract submission deadline for the meeting is Wednesday, September 24th. Registrations for the meeting will be accepted online until October 28th (prices go up after October 14th, so if you're planning to attend register soon to get the early bird discount). For more information please visit the meeting home page.
July 3, 2014 – Congratulations to the winners of the 2014 Student Presentation Award! These awards are given for an excellent poster presentation or talk at each Annual Meeting. For more information about these awards and links to the abstracts of all the winning presentations please visit the Student Presentation Awards page.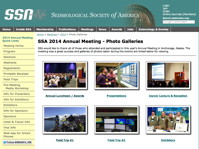 June 5, 2014 – Several galleries of photos taken at SSA's 2014 annual meeting in Anchorage, Alaska have been posted. Thanks to everyone who helped make the meeting a success. Hope to see you next year in Pasadena.

Latest SSA Journals
On the Cover…
Recent seismic disasters such as the 2009 Mw 6.2 earthquake that struck L'Aquila in central Italy have stimulated interest and new research in short-term forecasting of tectonic earthquakes. Marzocchi et al. describe the first such operational earthquake forecasting system for Italy, which is designed to provide scientific information to various constituents—including the public— for the purpose of reducing short-term seismic risk. The system, which is designed to be open, transparent, reproducible, and testable, meets guidelines of the International Commission on Earthquake Forecasting. SRL's cover shows an example of a one-week spatial probability forecast for seismic events of M = 4 or greater. Tramelli et al. and Jordan et al. provide related articles.
[ Close ]
September 2, 2014 – Volume 85, Number 5, the September/October 2014 issue of Seismological Research Letters, is now available online. This issue includes:
SSA members can access the complete online edition here.
Not a member? Join now to get immediate access.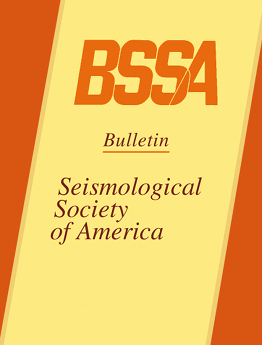 August 6, 2014 – The August 2014 issue of the Bulletin of the Seismological Society of America (BSSA vol. 104, no. 4) is now available online. Click to view the table of contents for the issue. SSA members should click here to access full text or PDFs of all articles from the issue (log in with your SSA username and password required). A press release, highlighting the article "Moment Tensor Inversion of Seismic Events Associated with the Sinkhole at Napoleonville Salt Dome, Louisiana" by Avinash Nayak and Douglas S. Dreger, is also available.